Harkening back to the GameStop (GME) short squeeze, Redbox (NASDAQ:RDBX) shares increased more than 10x in recent days. The confusing part? There's a deal in place for "Chicken Soup For The Soul Entertainment" (NASDAQ:CSSE) to acquire the company for an implied value of less than $1/share. confused? Let's dive in.
background
Redbox was taken private by Apollo Global (APO) in 2016 for $1.6B, and brought public again via a SPAC deal in 2021. In somewhat typical SPAC fashion, shares spiked after the combination, only to crater under $2 by February, a mere four months after the transaction closed. Fast forward three more months and Redbox agreed to be acquired in an all-stock deal for 0.087 shares of CSSE per RDBX share, an implied valuation just over $300m when accounting for RDBX's debt. Why such a haircut? Compare the SPAC deck: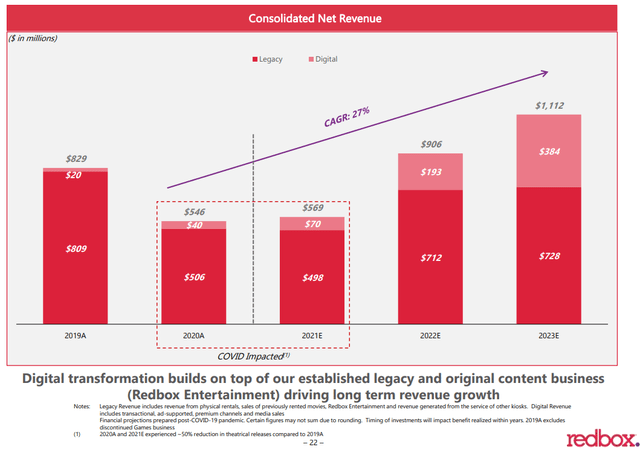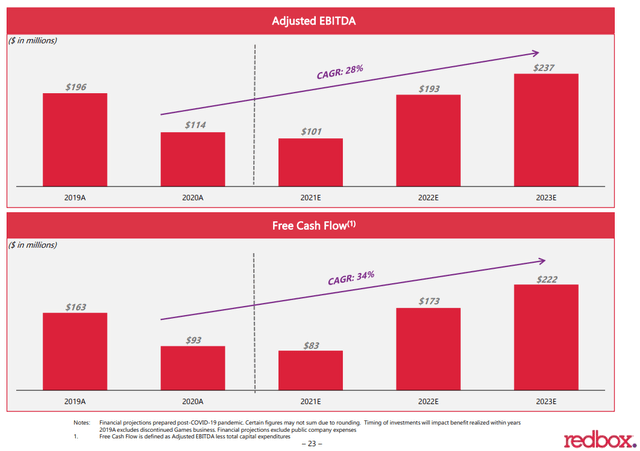 …to Q1-22 reality, which shows NO revenue growth, positive adjusted EBITDA or Free Cash Flow: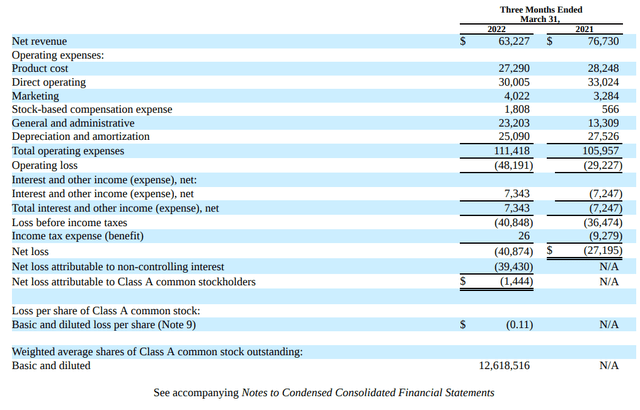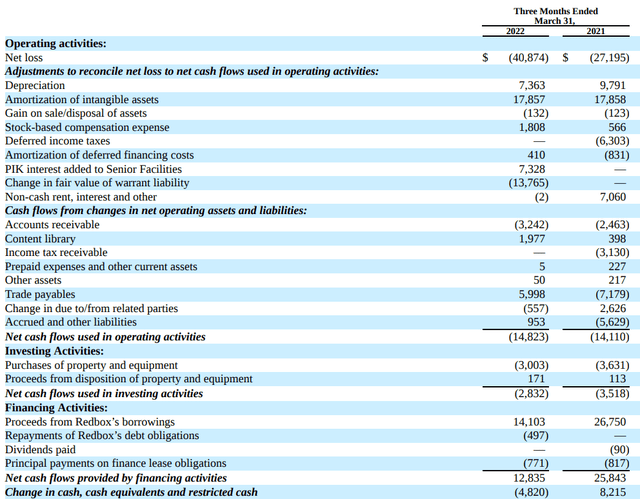 Redbox had only $13.7m cash at the end of Q1, which is concerning given they burned $14.8m cash from operations in Q1 and spent another $3m ​​on CapEx. So yes, the deal with CSSE was probably the only thing standing between the company and imminent bankruptcy, hence taking the deal at a discount to the prevailing share price. Seeing the discount to the trading value, merger arb traders jumped in long CSSE and short RDBX, thinking they were grabbing free money. Many of those traders are now learning about getting ITM calls assigned early† The result? Redbox trades at more than 10x the implied value once this deal is slated to close.
now what?
Investors could buy CSSE calls, RDBX puts, or try to short the common/calls outright and hope for the best. They may be aided by an increase in float, as Seaport Global (SGII) recently exercised their 1m warrants at $11.50, giving Redbox a small cash infusion and Seaport an unexpected exit from previously-DOA warrants. There were 17m warrants outstanding on 3/31, and if more are exercised it will result in a significant cash infusion for Redbox and a significant increase in outstanding shares. An $11.50 strike converting into 0.087 of a share would imply a look-through strike post-close of $132, so warrant holders seem like they should be motivated to exercise at anything above $11.50.
The main question outstanding is, will something change with the merger agreement? As it stands, CSSE would benefit if Redbox ran an at-the-money equity offering and raised cash to deleverage the combined businesses. Selling a share >$5 that is about to be exchanged for a portion of a share worth ~$0.50 is a great return on investment. CSSE was just using their ATM at higher prices, this return would be much more attractive. This could also result in a rework of the merger agreement, as Redbox would no longer be as financially distressed as before.
Both GameStop and AMC Holdings (AMC) have tried this approach to strengthen their cash pile, and the effect has supported their share price more than the offsetting impact of the dilution as shares retraced to lower prices.
Ways To Trade
If the deal closes with the current terms, RDBX shares would be worth about $0.65. $2 (1/20/23) puts on RDBX are about $0.70 and would almost double, assuming the deal closes in the second half of 2022 as expected. CSSE would therefore have to exceed $14, or the deal be renegotiated, for this trade to end up losing money. The $14 risk could be hedged with $10 (12/16/21) CSSE calls, trading around $1.50.
Traders could also simply go long shares of CSSE, hoping the mania moves to the other ticker in the deal, or buy shares of RDBX in hopes of a continued squeeze. Given the fundamental outlook above, I would not want to own RDBX if the deal breaks, and I have a hard time getting excited about the acquirer, who appears to have minimal exciting IP outside of Sherlock, and minimal "EBITDA" even after pulling out a slew of material costs:

Netflix (NFLX) has been showing that streaming can be a tough business, and I see minimal evidence in the CSSE cashflow statement that they can grow revenue organically without spending even more on content to keep eyeballs around: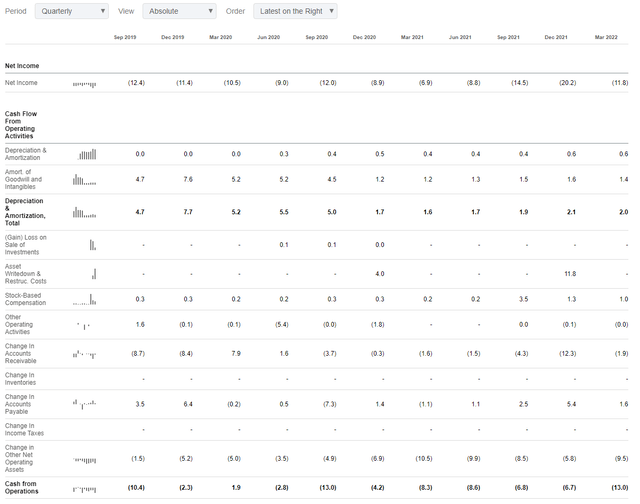 I'm also not that excited to buy a streaming stock on the heels of massive pull-forward in demand from Covid, and risks around AVOD if ad spending declines in a potential recession. Larger services like Netflix should be able to exercise some pricing power in a drawdown and have levers they can pull, but I expect smaller platforms will be forced to consolidate or go away, as Redbox quickly learned after rosy projections a year ago.
conclusion
The Redbox situation seems obvious, shares are trading over 10x higher than the current implied deal price, yet some traders have encountered steep losses picking up what they thought was free money. Equity issuance at this inflated price would help lift both CSSE and RDBX's fortunes but will also increase the outstanding float and could collapse the squeeze. Options exist for traders who want to try to make money on the situation, but I've decided to watch from the sidelines, at least for now.