We are updating our rating again on shares of ABB (NYSE:ABB), even though they have only declined ~17% from where we suggested it was time to take profits, and the performance has been more or less inline with that of the market. The reason for being bullish again on the shares is that while the price is only slightly lower, we believe the fundamentals are actually improving, and the story around the company is getting more exciting.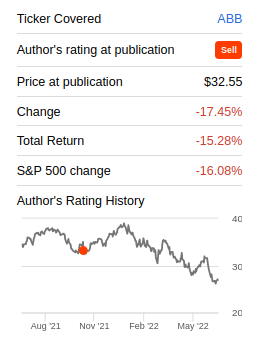 It seems to us that a lot of the 'fixing' that needed to be done at ABB either has been done, or is in the process of being completed, and the company is finally ready to really grow again. The financials of the company are a little difficult to follow with all the acquisitions and dispositions it has been doing, but it is clear to us that the quality of the company is now higher than before.
restructuring
ABB reorganized to become a more decentralized organization, with the different divisions having more accountability and control over their own operations. The company expects that this change will drive a higher performance culture.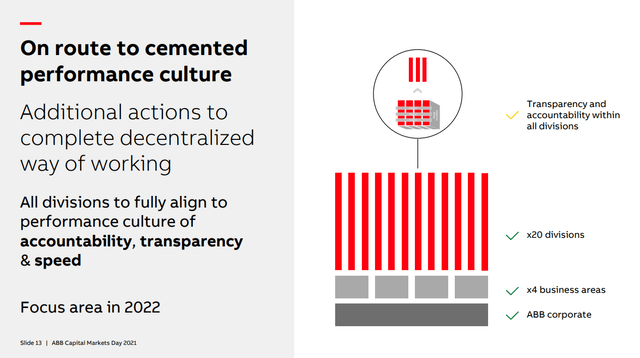 As part of its restructuring and continuous improvement initiatives the company is already seeing significant improvements in operational EBITA and quality of earnings.
This shift of ABB towards more attractive markets is already improving significantly the quality of revenues, which means better gross margins, less tail risks, and lower volatility of earnings.
The company's main financial ambition is to reach a 15% operational EBITA margin.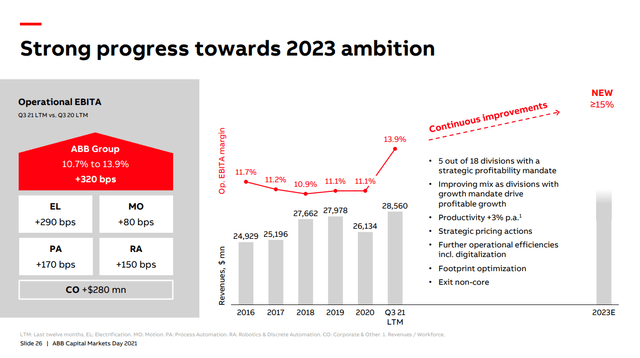 Technology
ABB's R&D investment as a percentage of revenue has been going up, but it is mostly that it has retained some of the more innovative parts of the business, and disposing of more mature businesses. We like that the percentage is relatively high, confirming that this is indeed a technology company still investing in its future.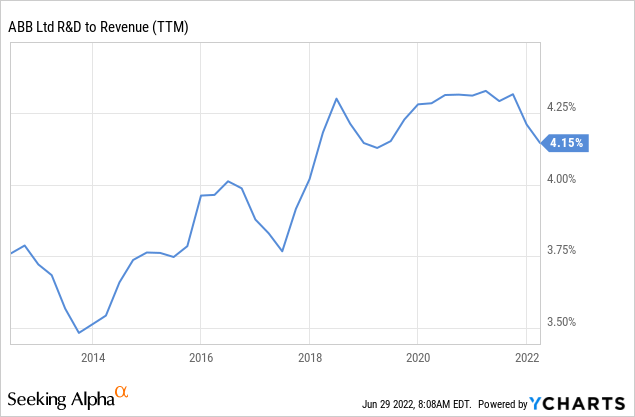 There are so many exciting businesses in ABB's portfolio that we cannot cover them all in one article, but we'll talk a little about one of our favorites, and that is sustainable transport. Sustainable transport represents about 10% of ABB's order intake, or ~$3.2 billion. One of the sub-segments in sustainable transport is E-mobility, where ABB is the world leader in EV charging solutions.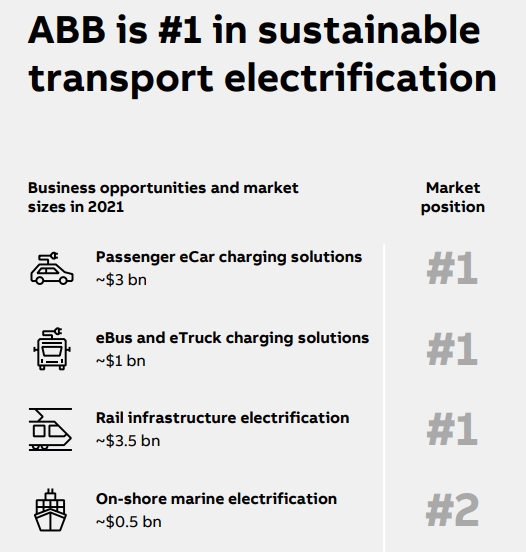 There is a good amount of growth in this market, and ABB is capturing market share by growing faster than the market. The sustainable transportation market is growing at a CAGR of ~9%, while ABB's sustainable transport orders have been growing with a CAGR of ~17% between 2017 and 2021. This is according to ABB's management estimates.
Sustainable transport is more than just electric cars, it includes heavy construction and mining vehicles, electric ships and ferries, rail, and even ski-lifts.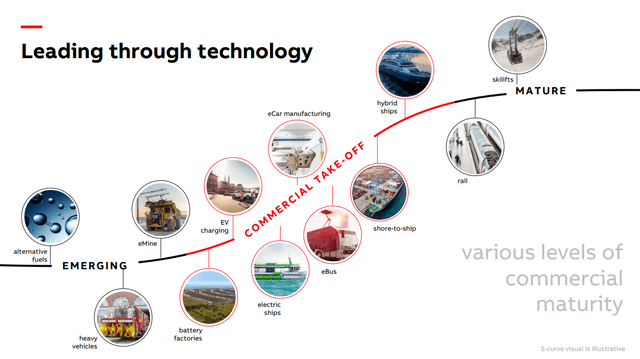 As a more specific example, ABB is helping ferries cut carbon emissions by ~40% per return trip across the English Channel for P&O Ferries' two new vessels. This can be scaled significantly considering that more than 2 billion passengers are transported by ferries every year.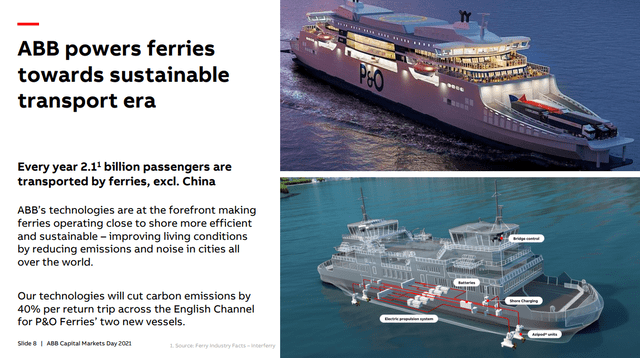 As a rule of thumb, if an application can make use of an electric motor, there is a good possibility that ABB can help make it more sustainable. And this is a huge opportunity, given that ~45% of the world's electricity is used to power electric motors. There are ~300 million motors in the field that do not meet the latest energy efficiency standards, and 4 out of 5 motors are currently not even controlled by a drive.
financials
ABB has increased its revenue growth target to between 4-7%, from 3-5% previously, and it expects earnings per share growth to exceed revenue growth. The other three key targets are an operational EBITA margin above 15%, return on capital employed between 15-20%, and to convert 100% of net income into free cash flow.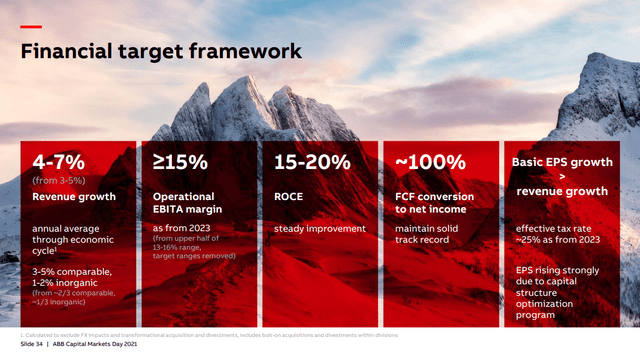 Its recent results are certainly pointing in the right direction, with both gross profit and operating margins above the average for the last three years.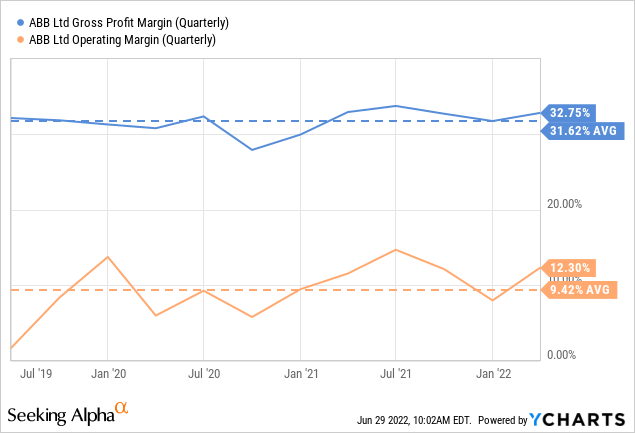 At a more granular level, the company has been able to move several businesses from earning less than 10% in operational EBITA, to the categories of those earning between 10-20% and above 20%. The company emphasizes that the >15% margin ambition is the sum of the parts, with some businesses optimizing their operations for profitability and others for growth.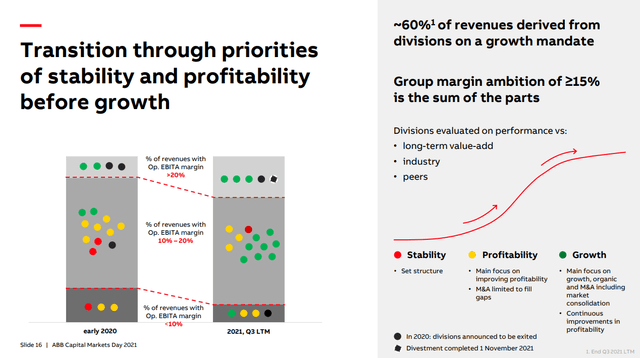 Balance Sheet
Thanks to the company's dispositions, it has ample liquidity with cash and short-term investments of > $6 billion. Total long-term debt is ~$9.2 billion, leaving the company with about $3.1 billion in net total long-term debt. The company has a solid investment grade credit rating, and overall we consider the company's balance sheet quite strong.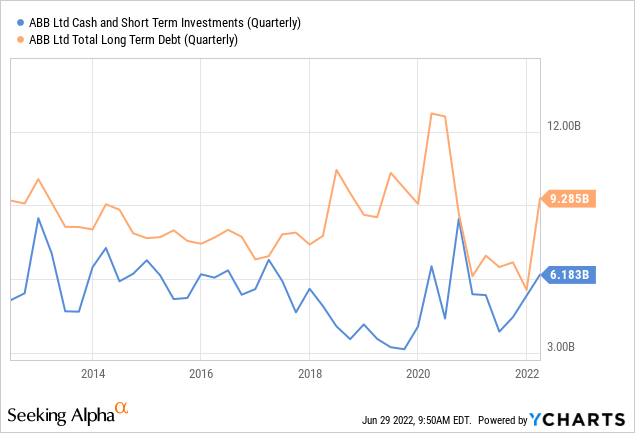 Valuation
As already mentioned, the financials are a bit more difficult to interpret given all the dispositions and acquisitions that have taken place at ABB, that said, its forward EV/EBITDA at ~12x looks attractive and is below the ten year average.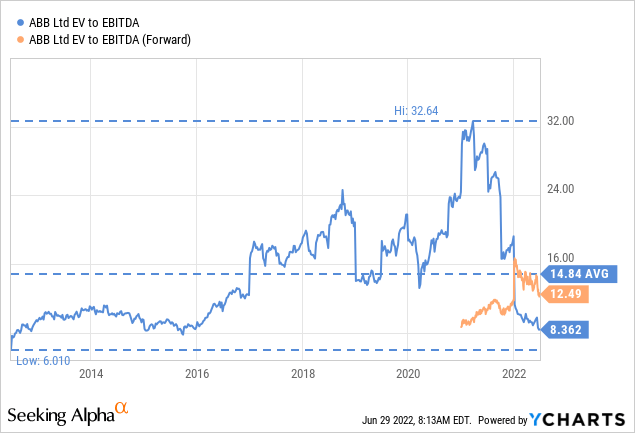 Shares are currently yielding a respectable ~3.2%, but what is more attractive is the net share repurchases the company is doing, which places the net common payout yield at close to 10%.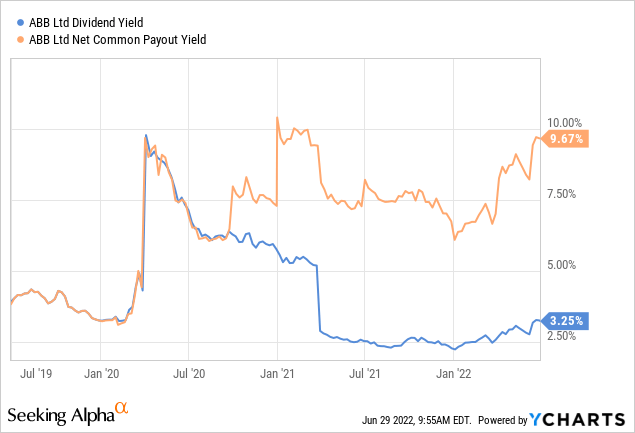 The company has a forward price/earnings ratio of ~18.9x based on analysts estimates for 2022, and 16.7x based on estimates for 2023.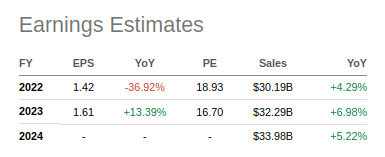 We estimate a net present value per share of $26.55, which is very close to where shares are trading. For years between 2024 and 2032 we estimated EPS growth at 7%, which is the top of the revenue growth range target the company is setting up for itself, but does not take into consideration potential operating leverage.
| | | |
| --- | --- | --- |
| | EPS | Discount @ 10% |
| FY22E | 1.42 | 1.29 |
| FY23E | 1.61 | 1.33 |
| FY 24E | 1.72 | 1.29 |
| FY25E | 1.84 | 1.26 |
| FY26E | 1.97 | 1.22 |
| FY27E | 2.11 | 1.19 |
| FY28E | 2.26 | 1.16 |
| FY 29E | 2.42 | 1.13 |
| FY30E | 2.59 | 1.10 |
| FY 31E | 2.77 | 1.07 |
| FY32 E | 2.96 | 1.04 |
| | | |
| Terminal Value @ 3% terminal growth | 42.28 | 13.47 |
| | | |
| NPV | | $26.55 |
risks
We do not see any short-term or medium term risks, other than potential valuation adjustments by the market. The company is currently operating profitably, its balance sheet has strengthened, and its Altman Z-score rating is now solidly above 3.0.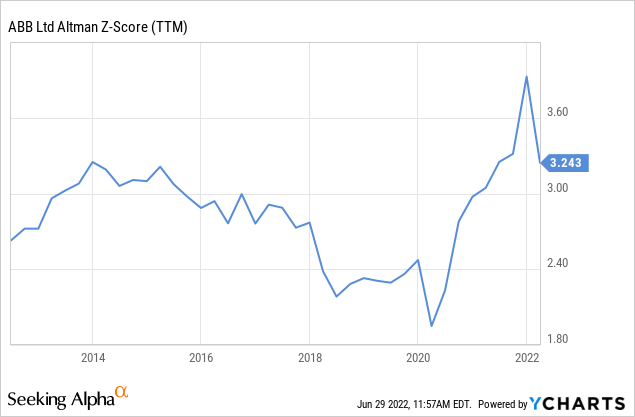 conclusion
A combination of a lower share price and improved fundamentals have made shares of ABB more attractive again. The story is also getting more interesting, we particularly like how sustainable transportation is growing very fast, in particular E-mobility which includes the EV charging business. Our estimated intrinsic value per share is very close to where shares are currently trading, so while we don't think shares are a bargain, we do think they are once again attractive enough to warrant a 'Buy' rating.