It's difficult to choose just one place to invest in Texas.
Which market in Texas is the best one to invest in? The answer is all of them.
Last year in Texas, single-family housing sales ended 6.1% higher at 416,488 units sold. The average and median prices increased to $372,656 and $300,000, up 18.1% and 15.7% respectively from 2020 according to the Austin Board of Realtors.
Texas ended the year at a 1.2-month supply of inventory. As a result, the close price to list price ratio was at 100%, meaning that on average, houses sold at their exact list price (even though many houses sold well above their list price).
Based on the building permit data, Texas added only around 10,000 more units in 2021 than in 2020, at approximately 170,000 new building permits. This level of new supply is insufficient in terms of meeting Texas' buyer requirements. As a result, we will continue to reduce the inventory while increasing the prices, because real estate prices follow the basic laws of supply and demand. Currently, Texas finds itself in a situation where demand has been outpacing supply for many years.
Almost all four major metro areas in Texas outperformed their 2020 performance in the areas of year-over-year sales volume and average and medium price.
Let's break down the individual markets, and you'll see why it's so hard to choose just one place to invest in Texas.
Dallas and Fort Worth
The only market that did not outperform 2020 from a single-family sales volume standpoint was the Dallas and Fort Worth market. But it was only down 1% year-over-year in sales volume at 117,692 units sold, according to the North Texas Real Estate Information System.
However, Dallas and Fort Worth average and median prices were up 20% and 18%, with sales prices landing at $410,453 and $335,000, respectively. Sales were down in no small part due to the lack of inventory in that market (and most markets in Texas), but also because 2020 didn't follow any of the normal sales distribution curves that prior years had followed. For that reason, some may prefer to compare 2021 to 2019 instead. Using that comparison, 2021 sales are up 9% versus 2019.
Austin
Last year Austin sales volume exceeded 2020 single-family sales volume by 2.5% to 41,316 sales. The average price jumped up 29.3% to $565,740, and the median price jumped 30.8% to $450,000, according to the Austin Board of Realtors. Surprisingly, Austin accomplished this with just 0.6 months of inventory.
In 2021, Austin experienced a phenomenon that has never been seen in real estate. Both the closed sales volume and the pending sales exceeded the total number of active listings on the market. As an example, the December 2021 active listings were only 2,042, while closed sales were 3,513 and pending sales were 2,654. Usually, active listing exceeds both closed and pending listings by a factor of two times or more.
Of all the markets, Austin appears to be the least price sensitive. As a result, it's one of the most coveted places in Texas to own property. The high price, however, makes it a little less attractive for buy-and-hold investors to cash flow, but it's very attractive for flippers where both the margins and the profits are very high.
San Antonio
Last year San Antonio sales volume exceeded 2020 single-family sales volume by 5% to 40,689 sales, the average price jumped up 16% to $293,263, and the median price jumped 15% to $249,600 according to the San Antonio Board of Realtors.
San Antonio has consistently been the most affordable of the large Texas markets. As a result, many buy-and-hold investors find great cash flow opportunities there.
Houston
Historically, Houston has been known as an oil and gas market and had been subject to the performance of that industry. Fortunately, during every oil and gas downturn, Houston has become more economically diversified, allowing it to weather future oil and gas disruptions practically unscathed. Houston diversification into health care, financial services, leisure, and hospitality—among many other categories—has allowed the city to prosper.
Last year, Houston sales volume exceeded 2020 single-family sales volume by 10.3% to 106,229 sales, the average price jumped up 16% to $376,075, and the median price jumped 15.4% to $300,000, according to the Houston Association of Realtors. Houston has many things going for it. The Greater Houston Partnership forecast calls for the metro to create 75,500 jobs in 2022.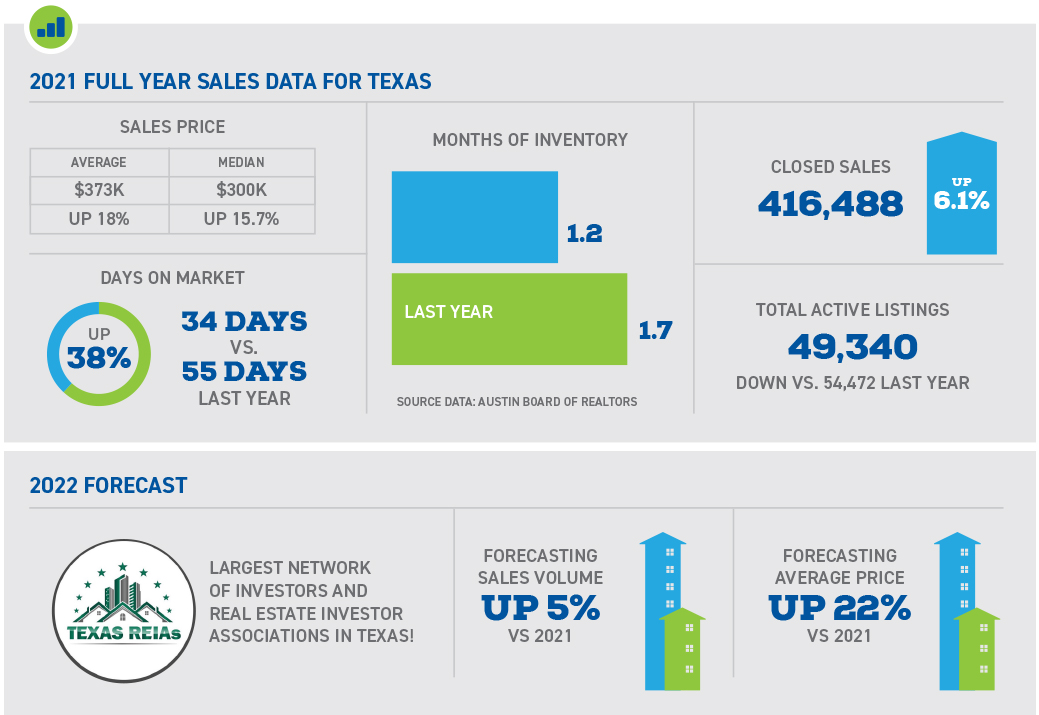 Future Trends
Why is Texas such a compelling place to live, run a business, and own real estate?
Kenneth W. Gronbach, author of "Upside: Profiting from the Profound Demographic Shifts Ahead" included a quote that exemplifies why Texas is growing so much. He quotes the American Legislative Exchange Council as reporting that "high taxes don't redistribute income, they redistribute people." High taxes in California and Northeastern states are a big reason people relocate to states like Texas. They seek to escape environments of overspending, overregulation, and over taxation. That trend will continue to propel Texas as a top place to move and do business in the coming years.
Here are some stats and trends to watch in 2022 and beyond:
spending: Consumer spending throughout Texas is 25.7% higher than it was before 2020. In Houston, it was 31.8% higher. In the US, it is 24.2% higher. Since it's been difficult to go on vacations, people have been spending more of their available income on consumer goods.
employment: Help Wanted postings have been averaging 30%-50% above prepandemic postings. Texas unemployment rates are around 5%, which is still not a total rebound from where it was in January 2020, when it was around 3.5%. However, it's still a very strong employment rate. Texas will continue to see job mismatches, significant shifts in employee preferences, and more companies catering to employees than we previously have.
Housing Affordability: As more people move to Texas and buy houses and as builders are unable to keep up with demand (from a material and labor perspective), Texas will continue to have affordability challenges in the foreseeable future. That being said, Texas is still affordable relative to the rest of the US, but even more so from the perspective of buyers who are moving here from more expensive parts of the country. The bonus of no state income tax makes overall cost of living in Texas appear much lower than it is where many buyers are migrating from. It's all about the perspective of the buyer.
Interest Rates: Low interest rates have allowed our prices to float up at a rate that many buyers don't notice because their monthly mortgage payments have still been low. But as interest rates rise in 2022, it may create some short-term slowing of housing price gains.
Overall, we don't forecast a reduction in sales or housing prices in Texas regardless of interest rate changes due primarily to the continued influx of new residents to Texas. A 1% increase in interest rate reduces buying power (purchase price) by 11%. But many of Texas' new residents are moving from other states where prices are 1.5 times to twice the prices in Texas, and they still feel like they are getting a bargain.
Inventory and Building Permits: We went from a high of 148,000 listings in 2008 to an all-time low of 49,340 listings at the end of 2021. Yet we have about the same number of building permits being issued today (170,000) as we did in 2005 (166,000). However, we had 416,488 sales in 2021 and only 277,649 sales in 2005. As a result, our inventory is only 1.2 months today versus 4.8 months in 2005, while our 40-year average in Texas has been around six months of inventory.
Technology and forecasting can naturally bring the necessary amount of inventory down. But where it currently stands in Texas, there is not enough inventory to supply all the buyers' needs. We likely won't have substantially more inventory for many years to come. The immediate reason is supply chain issues that significantly slow the building process. Labor shortages also further complicate our ability to bring houses to the market. What that likely translates into is continued year-over-year price increases, in spite of increasing interest rates.
inflation: In real estate, we call inflation "appreciation." Investing in houses is an excellent way to hedge against inflation. We are also seeing inflation in wages, which will help people afford houses as the prices continue to increase.
We are bullish on the Texas markets in 2022 and beyond as many factors are actively set up for continued increases in sales and corresponding increases in sales prices.
---
Shenoah Grove is a fourth generation Texas real estate investor. She started investing in 2003 and became a full-time investor in 2004. Grove and her husband Phillip Grove have transacted more than 1,000 real estate deals. In addition, they have trained more than 87,000 real estate investors on how to complete creative real estate transactions that work in every part of the market cycle.
Grove joined her local real estate investing association in Austin in 2003 and started to lead it in 2004. She formally purchased the association in 2008. In 2013 Grove created associations throughout Texas with monthly meetings in Austin, Dallas, Houston, and San Antonio, where attendees discuss trends in Texas real estate and how they impact investing. Every month hundreds of members, guests, and vendors attend. If you'd like to attend a meeting, visit www.TexasREIAS.com to get started with your investing.
These associations uphold the tradition of "Texans teaching Texans how to invest in Texas using strategies and systems that work and make money in Texas." This philosophy is the cornerstone of the association's success and the success of the members.
Grove is a licensed Texas realtor (#0518223) and broker (#0591721). Her undergraduate degree is from the University of Texas at Austin, and her master's degree is from Rice University.