Apollo Commercial Real Estate Finance (NYSE:NYSE:ARIA) offers a compelling 9.9% dividend yield, the highest amongst its peer group and significantly higher than the peer average of 8.0%. The dividend has been covered over the past 12 months, and we expect the dividend coverage ratio to increase in the next few quarters driven by higher interest income and lower interest expense (including preference interest).
We are making available our financial model though this LINK, which includes ARI's historical financials, Pandora Capital's base case projections (Q4 2017) and a summary table of ARI's peers' operational and valuation metrics.
Company & Portfolio Overview
ARI is a commercial mortgage REIT focused on originating/acquiring loans backed by commercial real estate (multi-family residential, hotel, retail, office) mainly in the US. The company also has a small CMBS portfolio (mostly investment-grade securities) which it uses to manage liquidity. The REIT is managed by Apollo, a US-listed alternative asset manager.
ARI's portfolio has steadily grown over the past few quarters, reaching $3.6bn in September 2017 (from $2.7bn in September 2016). The loan portfolio comprises first-lien mortgages (62% by value) and second-lien/mezzanine loans (38% by value). The portfolio allocation has been fairly stable over the last 2 years.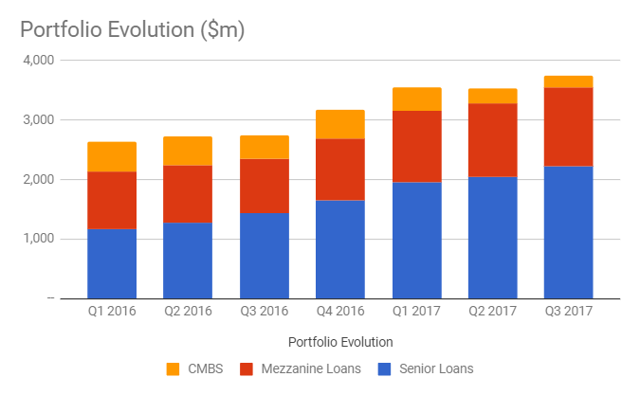 Source: Quarterly Reports, Pandora Capital
The portfolio is well diversified by geography across the US (with 13% exposure to international real estate markets), and by underlying real estate type (largest segments being residential for sale, hotel, urban retail pre-development, mixed-use).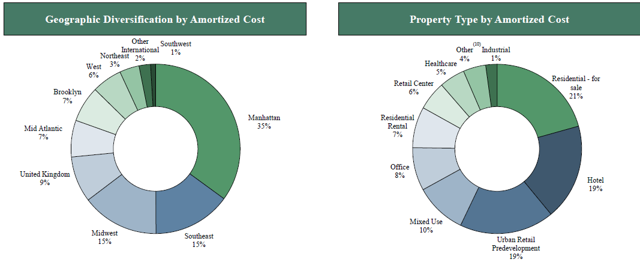 Source: Q3 2017 Presentation
YTD Q3 Earnings Analysis & Normalization
ARI's reported P&L exhibits volatility from quarter to quarter, driven mainly by one-off items, gain/loss on sale of assets, FX impact, and mark-to-market of certain assets and hedging derivatives. Therefore, ARI's management publishes a "normalized" income figure which they call "operating earnings" which adjusts its reported earnings for: certain one-off items (gain/loss on sale of assets), unrealized & FX gains/losses, non-cash expenses (equity-based compensation). This metric provides a better picture of ARI's quarter-on-quarter performance and dividends' sustainability.
The table below allocates these adjustments at a line-by-line level of the P&L for the past 3 quarters, and for Pandora Capital's projected Q4 2017 results (you can find this same data through the excel link provided above). The adjusted P&L shows a steadily increasing net interest income, driven primarily by the increased size of the portfolio, which is important to ARI shareholders as this is the "recurring" part of the P&L which funds the dividend payments (as opposed to market-driven one off gain). On a per share basis, net interest income has also increased to reach $0.68 per share in Q3 2017 driven by higher interest rates (most loans in ARI's portfolio are floating, whilst some of ARI's liabilities have a fixed rate). Operating expenses have increased in line with the larger equity base and portfolio size, and have remained stable on a per share basis.
Preference share interest expense has reduced in Q3 due to the redemption of the Series A preference shares, which also resulted in a $3m early redemption charge in Q3 (excluded from the adjusted P&L). Operating earnings have increased to $0.47 per share in Q3 2017, enough to cover the quarterly $0.46 dividend. We project Q4 operating earnings to increase further to $0.52 per share, driven by higher net interest income, lower losses on sold assets, and lower preference interest expense (the Series A preference shares were redeemed mid-way through Q3). We believe the increased operating EPS in Q4 will be sustainable in the short/medium-term thanks to higher interest rates on ARI's loan portfolio, lower interest expense rates (mostly fixed-rate liabilities, expensive preference shares repayment and issuance of convertible notes with lower coupon), and no significant deterioration in the portfolio's credit quality (resulting in no material provisioning need).

Source: Quarterly reports, Pandora Capital
Dividends & Coverage
Since the start of 2016, ARI has been steadily paying a quarterly dividend of $0.46 per share, equivalent to a dividend yield of 9.9% on today's share price. The current dividend yield is the highest among its peers (ACRE, BXMT, GPMY, JCAP, KREF, LADR, STWD) and significantly higher than the peer average of 8.0%.
Over the last 12 months, the dividend has been just about covered by GAAP earnings (100% coverage ratio) and registered a 104% coverage ratio on operating earnings (the company's normalized earnings metric). The volatility of basic EPS has been greater than with "Operating" EPS which excludes certain one-offs and market-driven P&L impact. The dividend coverage is sufficient to sustain the current quarterly dividend, and preserve a stable book value per share.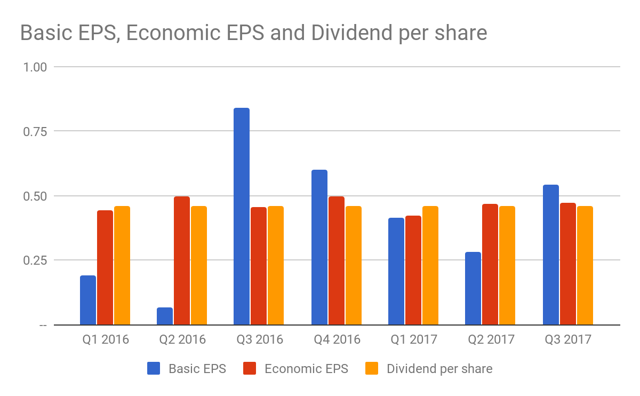 Source: Quarterly reports, Pandora Capital
We project Q4 2017 economic earnings to increase to $0.52 per share, driven by increased net interest income and more favorable one-off items. We expect the higher adjusted EPS to remain at the higher level in the short-term at least, supported by a high-yielding portfolio, higher interest rates (see next section), and low credit charges (low average LTV of loan portfolio).
Exposure To Interest Rates
As of Q3 2017, 89% of ARI's loan portfolio had floating interest rates, which provides the REIT with a mitigant against interest rate volatility, and potential upside as interest rates increase. As a small amount of its liabilities have floating interest rates, a 100bps increase in interest rates is estimated to increase net interest income by $0.19 per share (management estimate, excludes any credit quality deterioration from the higher interest rates charged to ARI's borrowers). Over the medium term, the net interest income impact will be lower, as ARI's current fixed-rate debt instruments will mature and be refinanced at comparatively higher interest rates.
conclusion
We conclude ARI to represent a good BUY opportunity, driven by the high dividend yield, adequate and increasing coverage. Higher interest rates support a further increase in operating EPS which could lead to an increase in the quarterly dividend in the medium-term. In the meantime, the higher dividend coverage will lead to increased book value per share. This will lower the price to book ratio (at a constant share price to today's).