While many REITs generate revenue and cash flows through buying and leasing out real estate assets, not all follow this same path. One exception to this is Apollo Commercial Real Estate Finance †NYSE:ARIA† This firm's strategy is a bit different, because it involves the company investing in mortgages and generating income off of those. In recent years, the financial performance of Apollo has been fairly attractive. The company consistently generates positive cash flow, and its revenue has largely trended higher overtime. Shares of the REIT also do look to be trading on the cheap at this point in time. This is not to say that there are no risks, but it is to say that Apollo could make for an attractive prospect for the right kind of investor.
A look at Apollo
At present, Apollo's business model involves buying mortgages and collecting the income off of those. As of the end of its 2020 fiscal year, the business held $5.5 billion worth of commercial loans and $1 billion of subordinated loans. This works out to about 84% of its assets being classified as a first mortgage. And the other 16% are subordinated. In all, the company ended the year with 67 loans in its portfolio. This is down from the 72 seen a year earlier.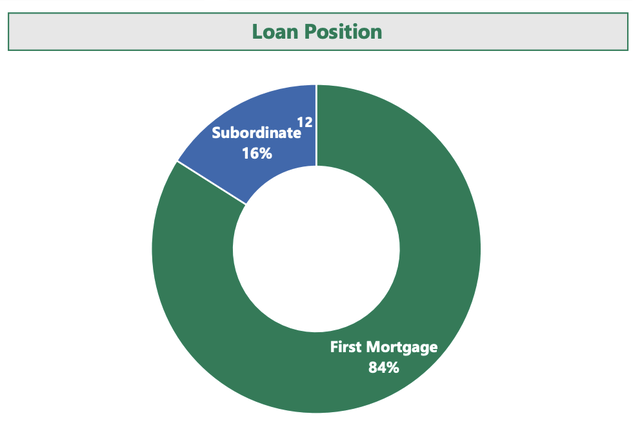 *Taken from Apollo Commercial Real Estate Finance
While this may be uncharted territory for investors who are used to the company owning the specific asset in question, when you look at the collateral involved, it really is mostly the same thing as if the company did own the asset. What I mean by this is that the company's strengths, weaknesses, and areas of exposure can be easily understood for instance, we know that 29% of its collateral at the end of last year was office space. A further 24% involved hotels. And 11% involved residential for sale construction projects.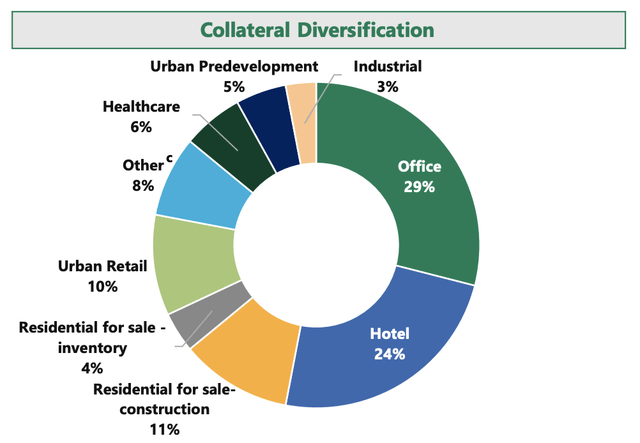 *Taken from Apollo Commercial Real Estate Finance
We also have an understanding of the regions that Apollo has exposure to. 36% of its business is tide to New York City. A further 11% is on the West coast. The company also has operations in foreign markets. 19% of its exposure comes from the UK. And 4% comes from Spain. The company has other foreign markets that it operates into, but the UK and Spain are the largest.
Unfortunately for shareholders, 2020 proved to be a difficult year for Apollo. The company's net investment income, as an example, declined 16.7%, falling from $334.48 million to $278.68 million. A lot of this pain came from just a few small changes. One of the biggest impacts came from the fact that the average one-month LIBOR declined by 1.71% in 2020 compared to 2019. This has a negative impact on the company's ability to generate cash flow. Also a problem was that $545.7 million worth of assets were placed in either cost recovery or non-accrual status for the year. By comparison, this figure was $192.4 million in 2019. Any amounts placed in cost recovery see interest collected on that loan reflected as a decrease in that loan's amortized cost. The company also suffered to some degree by $1.1 billion increase in the average month end debt balance on its books. All of these items impacted net investment income to some degree.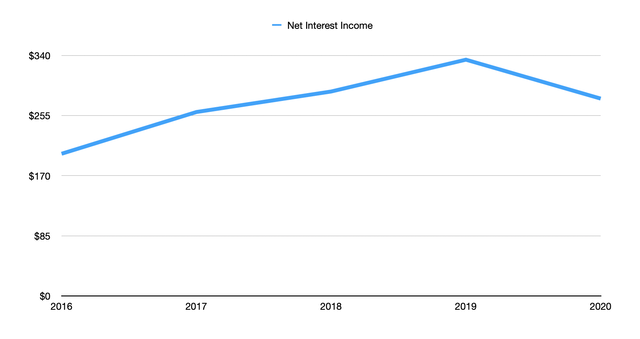 *Created by Author
As net investment income fell, so too did the company's operating cash flow. During the year, this figure dropped to $164.05 million. This compares to $273.44 million seen in 2019. As the chart below illustrates, distributable earnings, both on an adjusted basis and on a non-adjusted basis, dropped from 2019 through 2020.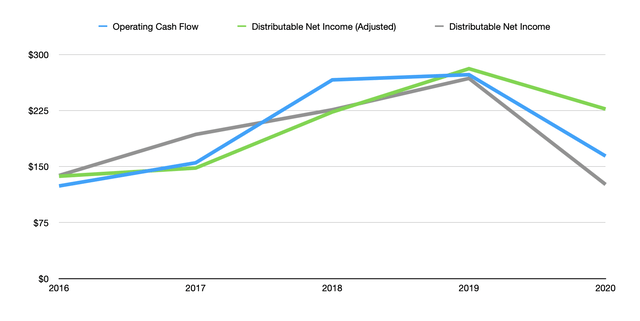 *Created by Author
Bad years are certain to hit almost any company overtime, but when you consider how well Apollo has operated in recent years, it appears as though the stress caused by the COVID-19 pandemic will prove temporary. To see why this is important, we need only look at how the company has performed in the years leading up to its 2020 fiscal year. From 2016 through 2019, for instance, revenue surged from $200.62 million to $334.48 million. operating cash flow also rose, climbing from $123.89 million to $273.44 million. And distributable earnings followed a similar trajectory, both on an adjusted basis in on a non-adjusted basis.
Which of these sets of metrics you decide to use in valuing the company will impact to a large degree how attractive the company looks. For instance, looking at it on a price to operating cash flow basis, using only 2020 financial results, will show that the company is trading at a multiple of nearly 11. This is not bad by any means, but it's expensive compared to the firm's 2019 results. The multiple for 2019 works out to 6.6. That makes Apollo appear as in an incredibly cheap company for investors to consider buying into.
That same kind of relationship can be seen when looking at other ways of valuing the business as well. The price to distributable earnings multiple stands at 7.9 for 2020, but for 2019 it would be 6.4. On a non-adjusted basis, these figures are 14.3 and 6.7, respectively. No matter how you stack it, a return to performance that's similar to 2019, which I would argue is highly probable as the COVID-19 pandemic eventually winds down, would prove to be a boon for the operation.
takeaway
Right now, Apollo is going through a rough patch, but even with that being the case, the company looks attractive. A return to normalcy then, should prove highly profitable for investors. Instead of worrying about the short term, one thing that management is doing that is very right, is looking to the future. Already, the company has committed recently to three new mortgage loans worth $562 million. In time, the company will collect even more, and will utilize that to generate cash flow. That should help to further create value at the business, though it's important to keep in mind that this could take time and patience is required.