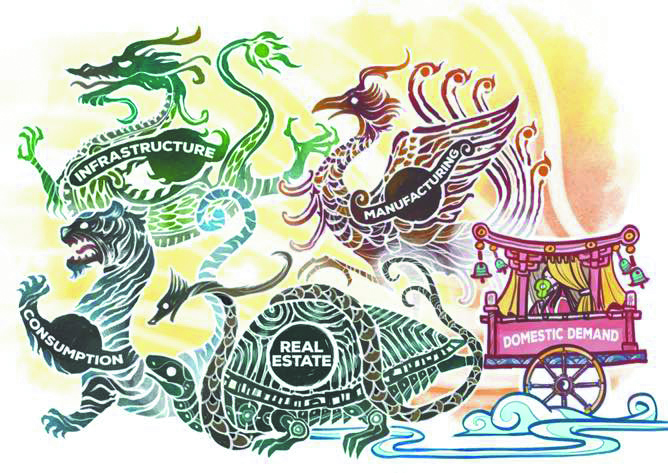 Expanding domestic demand and strengthening its driving force for economic growth is a key mission this year mapped out in the Government Work Report. Many moves have been made by the nation in accordance with the current overall situation, which mainly leads to three areas often highlighted in many meetings-consumption, investment and real estate.
With the accelerated pace of economic structural transformation in recent years, the role of consumption in expanding domestic demand has been continuously enhanced, and the potential for consumption growth is awaiting further development. Also, it is still necessary to fully leverage investment in stabilizing economic growth and domestic demand expansion, as it has helped the country safeguard economic momentum amid headwinds in recent years. The real estate sector, also a focus in many recently issued documents, is closely related to the two above-mentioned sectors.
Expanding domestic demand thus relies on promoting consumption, increasing investment and supporting real estate.
We're in our third year of the COVID-19 pandemic. Though China has been enjoying a faster recovery due to its more effective containment measures, new outbreaks in parts of the country keep casting a shadow over economic momentum, weighing on employment and preventing the economy from returning to a steady growth track at a time when demand is still relatively weak, and real estate is experiencing an overall downturn.
In view of this, it is a wise move that the government clearly set the macro policy tone of "stabilizing growth" for this year, and expanding domestic demand plays a very important role in achieving this goal. Judging from the highlights in the Government Work Report and the current economic performance, we see some issues worthy of more focus and also difficulties that should be urgently addressed.
The first focus is how to let infrastructure investment further play its role as a "ballast stone" in stabilizing economic growth. For this, it is necessary to solve two difficulties of how to guarantee sufficient financial support this year and how to ensure that money is spent and invested wisely, with high-quality projects available, throughout the period.
Information recorded over the past few years gives solid proof that infrastructure investment plays a good buffering role when sharp declines in real estate investment brought downward pressure on economic activities.
Facing both internal and external uncertainties this year, China in the first two months saw remarkable financial support, accelerated project construction and increased investment in traditional infrastructure and livelihood sectors, which were the main factors driving the rapid rebound in infrastructure investment over the period. The nation reported its infrastructure investment rebounded as expected in the first two months-an 8.1 percent growth year-on-year, and the growth rate was 7.7 percentage points faster than that of the same period of 2021, which is in big contrast to 2021 , when infrastructure investment only increased 0.4 percent for the whole year, not even as high as that of 2020 when COVID-19 ravaged the nation. By comparing the two years, the significance of ensuring strong financial support throughout the year and having more sufficient quality projects on the investment list stands out for ensuring rapid growth in infrastructure investment.
The improvement of investment quality and efficiency is among the ways the nation can achieve high-quality development. Therefore, it's a must to guarantee the quality of projects to be invested in, and to keep an eye on whether they have met the requirements of effective investment.
The second focus is how to leverage manufacturing investment as a "balancer" in stabilizing investment and the economy.
In this regard, maintaining high investment enthusiasm throughout the year is a hard nut to crack. On the one hand, manufacturing investment accounts for a major part of overall investment and has a strong stimulative effect. In 2021, when real estate and infrastructure investment were relatively weak, the rapid recovery of manufacturing investment played a key role in shoring up overall investment recovery. The sector continues to recover rapidly this year, as from January to February, an increase of 20.9 percent year-on-year was recorded, with the growth rate 7.4 percentage points faster than a year earlier.
On the other hand, private investment accounts for more than 70 percent of total manufacturing investment. As it is a natural reaction to see more investment from the private sector chasing stable market conditions and good profits, the quality of manufacturing investment can actually reflect how private enterprises are operating, which, if we go deeper, will better support employment-a critical factor influencing domestic demand.
Although manufacturing investment has recovered well in the first two months, with the Russia-Ukraine conflict leading to surges in raw material prices, and COVID-19 still lingering, there are challenges for private enterprises to maintain good operations, which may harm investment enthusiasm and thus hinders growth of manufacturing investment throughout the year.
The third focus should be on real estate investment, and the difficulty lies in how to keep property from stalling amid the overall downturn in the entire real estate market. Property investment can play an important and positive role in economic growth when the other two investments weaken at the same time. With pressure from the downtrend and challenges in achieving growth targets, it's necessary to stabilize real estate in the short term, which is not only beneficial to the overall economy, but also to homebuyers who have real-time livelihood needs.
In the first two months, investment in real estate increased 3.7 percent year-on-year. Though a better-than-expected figure, it was still 0.7 percentage points lower than that in 2021, and the growth rate has declined for 14 consecutive months. Other indicators in the sector also signaled weakness, showing that the overall property downtrend has not fundamentally changed. Considering the impact on investment and consumption that the sector has, it is necessary to curb the downtrend as soon as possible, and further stabilize real estate investment.
The fourth focus should be consumption. It is the most difficult part of expanding domestic demand this year. Consumption has contributed the most to China's stable economic growth in the past decade. In January and February, retail sales of consumer goods increased 6.7 percent year-on-year, 5.0 percentage points higher than that in December 2021, and 2.8 percentage points higher than the two-year average growth rate in 2021. The growth rate was the highest since August 2021. However, since the beginning of March, COVID-19 resurgences in many parts of the country have led to closures of many stores, shopping malls, restaurants and entertainment venues, and shutdowns of some enterprises. Triggered by a decrease in incomes, saving rates have seen an upward trend. The consumption recovery therefore faces huge challenges this year.
To put consumption back on a growth track is an important part of expanding domestic demand and stabilizing growth. In the short term, against the backdrop of the COVID-19 pandemic, the first and also the most urgent challenge to tackle is to ensure and promote employment and encourage flexible employment-an efficient way to boost consumption. Second, the government should vigorously encourage and support new business models and cultivate new categories for consumption in the new normal. Last but not least, jobs that strengthen the protection of consumer rights and interests should be further enhanced to create a safer and more secure consumption environment.
In the medium to long term, China should continue its firm steps to accelerate the pace of new urbanization, a move that can expand the base and increment of consumption growth. Rural land system reforms should also be further improved to lift farmers' incomes and consumption capacity. Local governments should ramp up efforts to make, lead or attract more effective investment combined with consumption and promote targeted consumption. Reforms in relevant tax systems will also help spur consumption appetites of earners in different income groups.
The article is an op-ed from the writer to China Forex. The writer is chief economist and head of the Zhixin Investment Research Institute.
The views don't necessarily reflect those of China Daily.
†